BATTERY-POWERED BACKUP SYSTEMS
Real Dry Waterproofing
provides full-service solutions for battery-powered pump backup systems in
western Massachusetts, Boston, the South Shore, Cape Cod, southern New Hampshire, northern Connecticut, and Rhode Island
. Don't be caught with your home unprotected during a power outage or equipment failure!
Real Dry
can offer a solution that protects your home even if your sump pump or perimeter drainage system fails.
Why do I need a battery backup?

Power outages, pump failures, and carelessness with maintenance can all lead to possible water infiltration – even if you invested in a sump pump and a perimeter drainage system.
FACT!
Battery Backup systems will
save your investment from a flood.
FACT!
Insurance companies
won't pay
for flood damage on your home without proper flood protection devices like a sump pump. Some policies even
require
backup systems.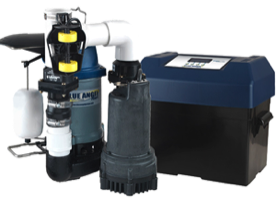 Battery-Powered Backup Systems
Not all battery backup pumps are created equal.
Pump quality, battery size, and the number of batteries (along with the reliability of your electrical service provider) all affect the quality of the system – as well as how long your backup system will perform.
Real Dry
has been installing backup systems
since 1985
when the first generation of models came to the market. Things have progressed since those early, stripped-down versions, but the concept is primarily the same. We use and recommend several different pump and battery backup system brands, including
Wayne
,
Sumpro
,
Blue Angel
, and
NexPump
. Ask us about the variety of systems available for immediate installation, including backup systems that can even call your cell phone or send you text alerts and updates on its service.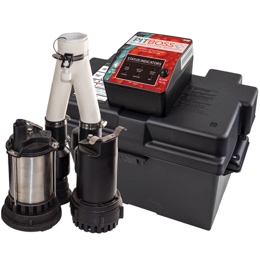 PitBoss Plus Combo Kit
Richtech makes great products, and Real Dry is happy to recommend the
The PitBoss Plus Combo
– a top-of-the-line PitBoss 3/4 HP Stainless Steel sump pump paired (and pre-plumbed) with the PitBoss Plus WiFi Connected Battery Backup Pump. The system is available exclusively from Richtech Industries and sold to professionals only. The kit includes 24/7 FREE MONITORING, primary & backup sump pumps, battery case, switches and a battery backup for Internet and wifi connection. 75 amp Richtech Battery (not included) is recommended for use with all
PitBoss Battery Backup Systems
.
Sumpro Model 100 Inverter & Backup System
The
Sumpro Model 100
is an intelligent battery backup system and power inverter from the good people at
Ion Products
of Illinois, and we recommend this system for appropriate installations in our customers' homes. This
Sumpro
can be used with pumps having a variety of horsepower ratings, and it has an improved feature set including a reduced footprint (to take up less of the precious space in your basement) and even quieter operation. An easy-to-read LCD allows for real-time monitoring of the system and its status. There's also an alarm contact capability, giving you the option of remote monitoring and notification during regular use or in case of emergency.
The unit even has battery charging inputs for solar and wind sources!
The
Sumpro 100
comes with the 15 Amp inverter unit and a dual battery box with a fuse bar (2 batteries, sold separately). The input & output voltage are standard 120 VAC. Optional features include a stand, an additional battery add-on kit, and the
Ion Genesis
sump pump controller and sensors. A warranty of 3 years is standard.
Blue Angel Professional Pump Systems
The
Blue Angel
series of pumps and backup systems are among the most reliable in the industry.
Real Dry
recommends the
DF50
(1/2 HP)
and
DF33
(1/3 HP)
backup installations, depending on the particular needs of each customer. Corrosion-resistant thermoplastic impellers, cast iron pump housings, stainless steel float guards, and dual float switches are just some of the high-quality features and construction techniques used in these sump pump systems. Controlled by a microprocessor that tests the unit regularly all by itself – and even sends alerts to the homeowner in advance of any problems – these
Blue Angel
systems can call up to
FIVE
different telephone numbers. On & Off level settings that are user-adjustable, a fully-submersible design, and a powerful
12 VDC motor
are some of the other features of the DF50 and DF33 pump systems. Requires one 75 or 40 Amp battery for operation. These units come standard with a 3 year warranty.
Advanced Notification Systems
"The Intelligence Unit"

How about a backup or even primary pump system that incorporates self-testing? A system that implements advanced,
Real-Time Diagnostics
and can be programmed for notification status in case of emergency – or maybe while you're on a vacation or a business trip? This technology is available from
NexPump
and offers complete peace of mind that you have state-of-the-art protection against damage to your personal possessions. Ask us about these
Next Generation
backup systems that are available now.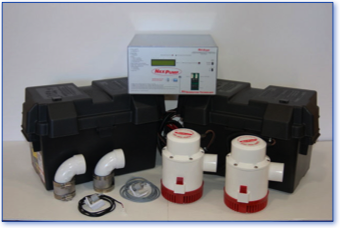 DON'T WAIT
for disaster to strike – contact
Real Dry
at
1-855-DRY-TODAY
or
us to talk to a local waterproofing expert you can trust.

Proudly serving MA, northern CT, RI, and southern NH with backup systems since 1985.
Serving Massachusetts, Connecticut, Rhode Island & southern New Hampshire