Real Dry
aims to provide the absolute best waterproofing services and most reliable waterproofing products to our customers and clients. We've won multiple awards for our work, our customer reviews are exemplary, and we're already mentioned in conversations as one of the best providers in our market space – and we intend to maintain that reputation.
Real Dry Waterproofing
has offices in both the western and eastern parts of Massachusetts. Our western office is located in
Holyoke
, and our eastern location is in
Hanover
. We occasionally have openings for new employees in both territories.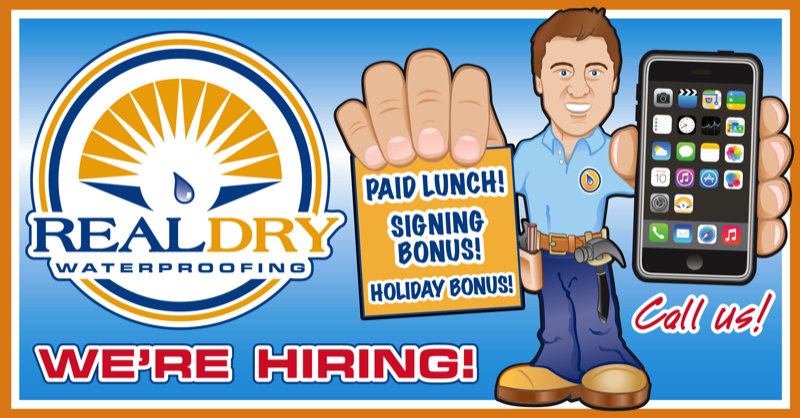 Training
– Learn waterproofing and related trade skills as you get paid on-the-job.
Commissions
– We pay competitive commissions on legitimate, qualified sales leads that close successfully.
Paid Lunch
– We pay for lunch for all of our job site staff every workday.
Holiday Bonus
– If you join our team by the Fall season – and you're with us through the holiday season and into the new year – you can qualify for our Holiday Bonus (based on your effort and work history).
Previous Industry Experience
– If you've got experience in the waterproofing or qualifying related trade specialties, and can cite confirmed leadership skills,
Real Dry
can compensate you accordingly.
• STEVE WALL, Owner
–
Steve
is the decision-maker for all operations in the western portion of the state.
• CURT GUENTHER, Owner
– All top-line and critical operational decisions are made by
Curt
in the eastern office location.
You'll most likely meet with
Curt
or
Steve
at the respective shop headquarters for a morning workday breakdown on a daily basis, unless you're sent directly to an active job site during a long-term open assignment.
• Other Team Members
–
Real Dry
employs a vital group of waterproofing, crawlspace, structural, and other specialty employees. You'll be teamed into targeted work groups with some of the hardest workers in the industry.
CURRENT OPENINGS
Location:
&nbsp&nbsp
HANOVER, Massachusetts


We're interviewing for both
General Laborer
and
Supervisory
positions (including
Foremen
) to work in an operating area that includes the South Shore, Cape Cod, Rhode Island, and Boston.
Call
Real Dry
at
781.499.8212
or use the link at right to apply to
Real Dry Waterproofing
.